05
---
Epistle concert for Japan – Henri-IV high school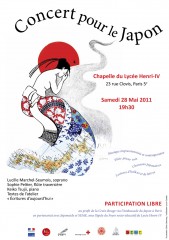 28th MAY ON SATURDAY AT 7:30 PM
place: Henri-IV high school church
address: 23 Rue Clovis 75005 Paris
entrance fee: free, donation optionally
A charity event by humanitarian support group SEME(Santé études musique espoir/ www.assoseme.fr) will be held in Henri IV Senior High School chapel from 19:00 on Saturday, May 28th.
In this concert of the fifth series of salon du livre where the publishing company of the Quartier latin takes initiative as an event hosted by Agency for Cultural Affairs as a part of 'to you to read', there are three musicians play the works of the Japanese composer or music made with inspiration in Asia. In the Meanwhile, the reading aloud of the poetry as the letter addressed to Japan will be held by the member of the Jacqueline Aupetit.
Lucille Marchel-Seumois (soprano),
Sophie Peltier (flute),
Keiko Tsujii (piano).
Readers / Authors:
"Writings of today" animate by Jacqueline Aupetit
---
Concert of solidarity for Japan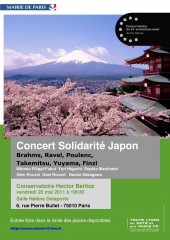 ON MAY 20th ON FRIDAY AT 7:30 PM
place: The Music House of Paris Berlioz in Paris, Hélène Delaporte hall
address: 6, rue Pierre Bullet 75010 Paris
Metro: Line 4/Château d'eau, line 5/Jacques Bonsergent
Mitomo Filippi-Fukui, Yuri Higuchi, Sophie Marchand,
Glen Bouxel, Gaël Bouxel, Naoko Sakagawa
entrance fee: free, donation optionally
program:
Niccolò Paganini: Caprice
Yuyama: Confections a Piano Sweet
oseph-Maurice Ravel: Reflections

Noctuelles
Oiseaux triste
Alborada del Gracioso

Francis Jean Marcel Poulenc: Sonate for violin and piano
Takemitsu: Les yeux clos
Gerald Finzi: The moon at the window
Japanese melody of Oboe and Piano
Johannes Brahms: concerto for violin
Mitomo Filippi-Fukui (piano), Yuri Higuchi (piano), Sophie Marchand (mezzo-soprano), Glen Rouxel (violin), Gaël Rouxel (piano), Naoko Sakagawa (Oboe)
http://conservatoire10.free.fr
---
Tomohiro Maeda Paris Connexion
ON MAY 7th 2011 ON SATURDAY 20:30 ~ 22:00


place: MJC Jean VILAR
address: Rue de crewkerne 91430 IGNY
contact information: +33 169412377
entrance fee: 3euros/5euros minimum
The total amount from the event will be given to the Japanese Red Cross society as a donation through the Embassy of Japan in Paris.
Tomohiro Maeda (guitar)
Georges Beckerich (trumpet)
Toups Bebey (percussion and saxophone)
Supports:
La ville d'Igny
Le Conseil Régional Ile de France
Le Conseil Général de l'Essonne
JAPONAIDE
---
"akai ito" the red thread that binds destinies together
May 7th, 2011
3pm at the "59 Rivoli"
59 Rivoli Street
75001 Paris
( Subway Station: Châtelet )
"The Red Thread"
People who wish to participate will be tied to one another by a long red thread and parade on Rivoli Street. Let this red thread be the symbol of our commitment to the cause of Japan as we walk in the street all linked together.
We hope to bring both Japanese expatriates and french citizens together, and be as one to show our support for the victims of the earthquake.
---
Charity Concert of chamber music at Cultural Center of Japan in Paris
– Concerts solidarité Japon –
Concerts solidarité Japon
ON MAY 4th 2011 ON WEDNESDAY AT 8 PM
place: Cultural Center of Japan in Paris
address: 101 bis, Quai Branly 75015 Paris (Metro: Bir Hakeim)
entrance fee: 15 euros
The total entrance fee from the event will be given to the Japanese Red Cross society as a donation.
reservation: 01 44 37 95 95 (Cultural Center of Japan in Paris)
W. A. Mozart : Sonate pour flûte et piano (version originale-violon et piano) en si bémol majeur KV454
F. Chopin : Mazurkas
G. Fauré : Elégie
C. Debussy : Sonate pour violoncelle et piano
T. Takemitsu : Hika, élégie pour violon et piano
T. Hosokawa : Berceuse d'Itsuki, transcription d'un chant populaire japonais
Jun Kanno (piano)
Shigenori Kudo (flute)
Piotr Anderszewski (piano)
Yvan Chiffoleau (cello)
Atsuko Watanabe (violon)
Jérôme Laran (Saxophone)
---