MINI DON-GRAND DON Volume 4: MATSURI (Festival)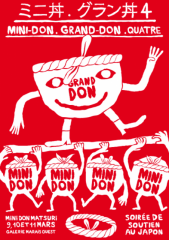 One year from the earthquake. 'Mini Don Grand Don', a group of creators from all over the world presenting under the theme of 'Things across in your mind', holds the fourth event under the theme of 'MATSURI-festival-' in Marais district, Paris.

DATE: from Friday 9th March to Sunday 11th March 2012
TIME:
9th March 6:00 pm to 10:00 pm
10th March 10:30 am to 11:00 pm
11th March 3:00 pm – 6:00 pm
PLACE: Galerie Marais Ouest 12
ADRESSE: 12, rue de Montmorency, 75003, Paris France

Total amount of proceeds through this event will be sent to SCHOP-DAN, a NPO providing help to the victims in the damaged area hit by Tsunami with removing debris, and to 'Home for everyone' project supported by JAPONAIDE.
---
OPENING EVENT
EXHIBITION OF ILLUSTRATION & ELECTRIC MUSIC NIGHT
Friday 9th March from 6:00 pm to 11:00 pm
6:00 pm
-OPENING PARTY
Thomas Bouveret
Izumi idoia
Antoine Bertrand
Ai Akiyama
etc..
From 7:00 pm to 10:00 pm
– Electric Music Night 5 €
Xtronik (Live)
GNG (Live)
DJ Frank Bimbo Tower (DJ)
Marius (DJ)
---
MINI DON MATSURI (Festival)
Saturday 10th March from 10:30 am to 11:00 pm
10:30 am
– Japanese Brunch
11:30 am & 2:00 pm
– Kamishibai spectacle(for kids) with saxophone 3 €/ 5 €
4:00 pm
– Rakugo theater with Shamisen in French with Cie Balabolka 3 €/ 5 €
All day :
– EXHIBITION OF ILLUSTRATION
– Japanese food stand (takoyaki, choco banana, minidon, yakisoba, etc)
– Japanese book stand
– Japanese candy store (dagashi)
– Local products market from Tohoku
from 8:00 pm to 10:00 pm
Electric Music Night 5 €
Cloudberry (Live)
HYPO & EDH (Live)
Kumisolo (DJ Karaoké) + Shun from Danger Money (DJ)
---
PRAYER DAY & CANDLE NIGHT
Sunday 11 March from 3:00pm to 6:00pm
3:00 pm
– Recitation for children by Eriko NAKAMURA (sur réservation : http://www.chocolatmag.com/)
4:00 pm
– Snack and Drink Bar
6:00 pm
– Candle night, a walk in Paris, holding candles to commemorate the tragedy
All day:
– EXHIBITION OF ILLUSTRATION
– Japanese food stand (takoyaki, choco banana, minidon, yakisoba, etc)
– Japanese book stand
– Japanese candy store (dagashi)
– Local products market from Tohoku