11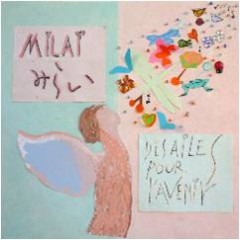 date: 15 Nov 2011 on Tuesday from 5:00 pm to 8:00 pm
16 Nov 2011 on Wednesday from 11:00 am to 5:00 pm
place: 6th ward office
address: 78 rue Bonaparte 75006 Paris
Organized by 'MILAI'
"MILAI, a wing to the future" is a message book for children of the stricken area of 11 March. Not only adult but also children write a message from France. To send our heart and spirit to Japanese children from Saint-Germain-des-Prés!
---
Photo Exhibition 'Earthquake, tsunami and tomorrow'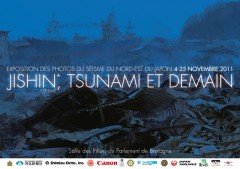 The Exhibition is held in Rennes city is the capital of the region of Brittany where is the sister city of Sendai city.
date: 4 November to 25th November 2011
from 8:45 am to 12:00 pm, 1:45 pm to 5:00 pm on every Monday to Friday
close on every Saturday and Sunday
place: Parlement de Bretagne
address: 1 Place Parlement de Bretagne, 35000 Rennes
fee: enter free
Opening ceremony: 4 November from 12:00 pm
place: Rennes City Hall
address: Place de la marie 35000 Rennes
Sponsorship: Association de jumelage Shimai Toshi Sendai
http://www.rennes-sendai.fr/
---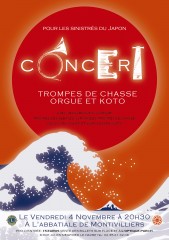 date: Friday November 4th 2011, from 20h30
1st part: 45 minutes
Entr'acte: 15 minutes
2nd part: 45 minutes
place: Abbaye de Montivilliers
abbatiale de Montivilliers, near Havre (seine maritime)
address: Jardin de l'Abbaye, 76290 Montivilliers
Entrance fee: 15 euros
The donnation will be sent to the victims of 11 March via Lions club international foundation.
10
---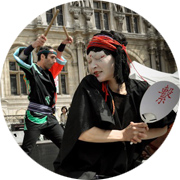 October 5th – Paris Bastille
date: Wednesday Octobre 5th 2011, from 20:30 to 22:30
place: Studio Campus. 12 bis rue Froment 75011 Paris
metro: Bréguet-Sabin or Bastille
entrance fee: Participation libre
www.tsunagari-taiko-center.com
09
---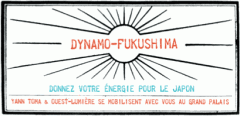 Journées européennes du patrimoine
– Le voyage du patrimoine –
DONNEZ VOTRE ÉNERGIE POUR LE JAPON !
place: Nef du Grand Palais – Entrée principale – Avenue Winston Churchill – Paris 8ème.
www.dynamo-fukushima.org / www.rmngp.fr
date: Saturday Septembre 17th from 10:00 to 01:00, Sunday Septembre 18th 10:00 to 17:00
acces: métro ligne 1, 9 et 13 : Champs-Élysées – Clémenceau or Franklin – D.Roosevelt
---