10
Tempei Nakamura – Charity Piano Concert in Paris «Visions»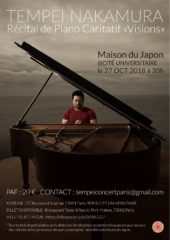 Date : October 27th, 2018 (Sat) Open 19:30 / Start 20:00
Place : "Maison du Japon" (Cité Universitaire)
Address : 7C Boulevard Jourdan, 75014 Paris
Access : RER B, "Cité Universitaire", 5 min-walk from the station
Participation Fee : 20 EUR (2500 JPY)
---
09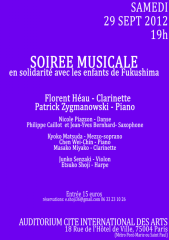 Musicians of each country gathered for children of Fukushima to give an especial concert.
All profits of this concert will be sent to the GREEN Camping of Tohoku through Japonaide.
*GREEN Camping of Tohoku is the association which organised some campings for children of Fukushima who were not able to play outside after the earthquake disaster.
date and time: On saturday 29 September 2012 at 7 pm.
address: Auditoriun Cité Internationale de Arts
18 rue de l'Hôtél de Ville 75004 Paris (metro Pont-Marie or Saint Paul)
entrance fee: 15€
information and reservation: e.shoji36@gmail.com 06 33 23 10 26
The participating musicians
Two clarinetists are playing an active part international will performed:
Florent Héau (Clarinet)
Patrick Zymanowski (Piano)
---
03
11.3.11 One year after
"What can be done in the aftermath of Japan's earthquake?" in order to answer to this question, we set out to organize a charity concert on April 10th, 2011 at the UNESCO's Room I. 114 musicians, all living in Paris or its surroundings helped raise a total sum of 21354.93 euros, all of which was sent to the National Federation of UNESCO Associations in JAPAN. One year after the earthquake, our wish is to organize a second charity concert in memory of the victims, with the help of an orchestra –composed almost exclusively of voluntary professional musicians – and the Super Kids Orchestra, all performing under the direction of renowned conductor Yutaka Sado. The goal of this one-year anniversary concert will be to raise new funds for the earthquake's victims, and send a message of gratitude from Japan to the rest of the world, as well as the solidarity between the musicians from all around the world.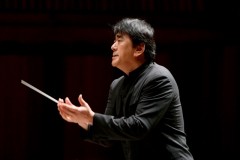 Date : On March 11th 2012 on Sunday Photo exhibition at 14:00, Concert starts at 15:00
Place : Maison de l'UNESCO salle I
Address : 125, avenue de Suffren, 75007 Paris (Métro : Ségur)
Ticket fee: 30 euros , 20 euros (student)
*The total amount of the ticket sales will be sent to "UNESCO Association Scholarship for 3.11 Disaster Stricken Children and Students" programe and Ishinomaki Meiyukan, an evacuation shelter run by volunteer stuffs in Miyagi.
Tickets are now on sale at Fnac.
Please purchase the ticket in advance. No ticket sales on the day of concert.
*Concert reserved for person of over 7 years old.
---
PLACE : Guimet Museum – Panthéon bouddhique
ADDRESS : 19 avenue d'Iéna 75016 Paris, France / M° Iéna
DATE : from Saturday 10th March to Sunday 15th April 2012
TIME : every day 10:00 pm to 17:30 pm, except Tuesday
Free Entrance
---
DATE : from Friday 9th March to Sunday 11th March 2012
TIME :
9th March 6:00 pm to 10:00 pm
10th March 10:30 am to 11:00 pm
11th March 3:00 pm – 6:00 pm
PLACE : Galerie Marais Ouest 12
ADDRESS : 12, rue de Montmorency 75003 Paris, France
---
Friday 9th March, Notre-Dame Cathedral
| | |
| --- | --- |
| 5:45 – 6:15 pm | A prayer for Japan. The traditional evening prayer, Vespers is to be held when night starts falling in Japan. |
| 6:15 – 7:00 pm | Mass |
| 7:00 – 7:30 pm | A musical piece in honour of the dead, conducted by Mr SADO of the Super Kids Orchestra. |
Sunday 11th March, Trocadero Square
One year ago, at precisely 2:46 pm and 18 seconds ( 6.46 am Paris time ) , the first earthquake of a long series hit the north-eastern coast of Japan. Together one year later, at the exact same moment, we will observe a minute of silence to honour the victims.
| | |
| --- | --- |
| 6:00 am | start of the meeting |
| 6:46 am | 1 minute of silent prayer |
| 6:50 am | flower offering |
| 9:00 am | end of the meeting |
---
Discover and have a taste of our fine Japanese products
DATE : Saturday March 3rd, 10th, 17th, 24th and 31st
OPENING HOURSE : from 12:00 am to 7:30 pm
PLACE : LMDW Fine Spirits
ADDRESS : 6 carrefour de l'Odéon 75006 Paris, France
---