07
---
59 Rivoli: RÉSURRECTION DE LA MÉMOIRE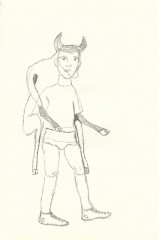 ON Saturday 30th JULY 2011, 18h
place: galerie d'art du 59 Rivoli
address: 59 Rue de Rivoli, 75001 Paris (Metro: Châtelet)
entrance fee: free
KOMACHI
Nelson Ferreira / danse butô, YANÉKA : Chiyako Maeda / chant, Yuichiro Maeda / guitare + Clara Roy-Maeda / violon & costume
Dessin: Marine Joatton
Komachi est une boule de neige et ses pattes sont en velours.
Elle chante vers le ciel..
…
Komachi est partie.
Dansons pour Komachi.
RÉSURRECTION DE LA MÉMOIRE
AmadoLLI: Azusa Kurokawa / danse & dessin, Fred Marty / contrebasse, habillés par Victor Férès
Battements du coeur de la terre
Caresse ma main Écoute
S'écoule la sève
Dans ce corps décomposé
Ses yeux grands ouverts regardent le passé comme le présent
Larme orpheline Erre
dans la nuit Chante
le requiem pour les mémoires dormant dans la matrice
un papillon s'éveille de son Rêve
Voltige en portant la robe des nébuleuses
http://www.59rivoli.org
The Origin, clip du groupe YANÉKA
---
Chu KOSAKA: CHARITY GOSPEL CONCERT for JAPAN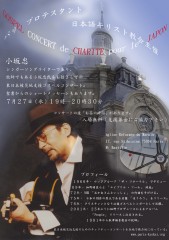 ON Wednesday 27th JULY 2011
19:00-20:30
place: Eglise Réformée du Marais
address: 17, rue St. Antoine 75004 Paris
Metro: Bastille
entrance fee: free, donation optionally
Chu KOSAKA
06
---
Exhibition for iPhone Case in Paris at Japan Expo
From 30th JUNE 2011 to 3rd JULY 2011
10h-19h (Advance Ticket), 11h-19h (Doors Ticket)
place: JAPAN EXPO, Parc des Expositions de Paris-Nord-Villepinte
address: Parc des Expositions de Paris-Nord-Villepinte 93420 Villepinte
Access
The various genres of creators including designers, illustrators and artists display the work which produced as art for the free idea and the thing of sensitivity with iPhone case as a canvas.
http://www.jointworks.net/iphone/france/
Not only the peoson like Japanese comics and the animated cartoons but also as one of creators or artists, shall we make an original work with own original idea and sensitivity on iPhone case as a canvas?
---
15 hours non-stop piano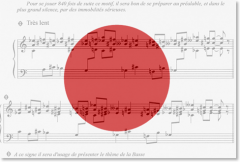 Charity concerts for Japan with Vexations by Erik Satie
By performing the complete Vexations – Erik Satie by pianists all over the world we would like to build a musical chain to raise money for Japan. All musicians will play for free and the complete revenues will go to the Red Cross.
Vexations was written in 1892 by Erik Satie. It contains chains of chords of a single type – mostly diminished, slowly moving, and the whole fragment has to be repeated 840 times! A performance can last 20 to 28 hours and can be played by one of more performers. It was John Cage who discovered the piece in 1949 and premiered it.
http://www.vexations4japan.com/
ON 26th JUNE 2011 ON SUNDAY, 9:00 – 24:00
place: Auditorium du Pôle Musique de Lagny
address: 2, avenue du Général Leclerc , Lagny sur Marne ( 77 )
entrance fee: free
Organizer: M. Jean-Thierry Boisseau
Partnership: Lagny-sur-Marne

---
JOE HISAISHI CHARITY CONCERT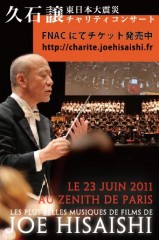 ON JUNE 23th ON THURSDAY AT 20 PM
place: ZENITH
address: 30 Avenue Corentin Cariou 75019 Paris [Access]
Program:
My Neighbor Totoro
Ponyo
Spirited Away
Princess Mononoke
Nausicaä of the Valley of the Wind
Buster Keaton
etc.
http://charite.joehisaishi.fr/
---
Organ Concert – En soutien aux victimes du Séisme au Japon –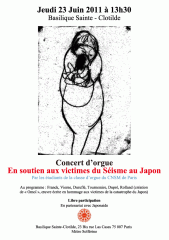 ON JUNE 23th ON THURSDAY AT 1:30 PM
place: Basilique Sainte-Clotilde
address: 23 Bis rue Las Cases 75007 Paris, Métro Solférino
Program:
Franck, Vierne, Duruflé, Tournemire, Dupré, Rolland (Création de "Omoï", œuvre écrite en hommage aux victimes de la catastrophe du Japon)
Musicians:
The students of the organ class of CNSMDP
entrance fee: free, donation optionally
---
'F. Liszt: Prayer of 200 years'
Concert for earthquake revival support International exchange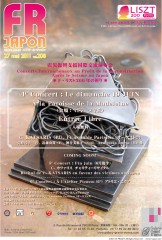 ON 19th JUNE ON SUNDAY AT 2:30 PM
place: Madeleine temple
address: Place de la Madeleine 75008 Paris
entrance fee: free, donation optionally
Program:
Rhapsodie hongroise N°12- F. Liszt : Shinichi Inoguchi (piano)
Rêves d'amour (version musique de chambre) – F. Liszt, arr. par Seiko Kawasaki : Sachi Segawa (violon), Ryoko Yano (violon), Ritsuko Nazé-Ohashi (alto), XX(violoncelle), Hanna Sato (flûte), Akiko Kawakubo (piano)
Extraits de « Norma » – V. Bellini : Casta Diva – Norma / Sgombra è la sacra selva – Adalgisa / Mira, o Norma – Norma et Adalgisa Mieko Kamiya (soprano), Agnieszka Lucya (mezzo-soprano), Hanna Sato (flûte), Kanako Abe (piano, direction) L'Orchestre de chambre Pasdeloup
Concerto N°1 – F. Chopin : Madoka Fukami (piano), Yuki Kondo (piano), L'Orchestre de chambre Pasdeloup
Rêves d'amour (O lieb so lang du lieben kannst) S.298 – F. Liszt : Chinatsu Saito (soprano), Jean-Michel Kim (piano)
Le Printemps « Les quatre saisons » – A. Vivaldi : Ryoko Yano (violon), L'Orchestre de chambre Pasdeloup
Libesleid – F. Kreisler : Ryoko Yano, Cyprien Katsaris (piano)
Improvisation en hommage à F. Liszt : Cyprien Katsaris
Marche funèbre – F. Chopin : Cyprien Katsaris
Musicians:
Cyprien KATSARIS (Piano), etc.
Orchestre Pasdeloup + direction: Kanako ABE
Organized by: Executive committee for Earthquake revival support International exchange Concert
Supports: Kiyomizudera temple, Madeleine temple, Ensemble Parisien Orchestre, YAMAHA, JAL, JAPONAIDE
---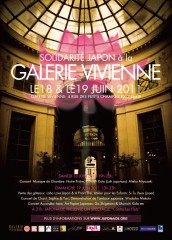 'Gallery Vivienne where the most beautiful passage in Paris' was just left a feature of the 19th century and become the superlative performance stage for support of Japan for two days. Including the sale of the cakes by LOVE LABO JAPON, the atelier for the children, as for the koto, the accordion, the chamber music, the sum drum and the various events by Japan and France artist will take place in the Gallery. The last program on 19th June from 21:00 holds the spectacle by more than 20 artists. we send everyone's prayer to Japan through this event with big hope. The profit of the event will be sent to Japanese Red Cross Society through Embassy of Japan.
Date and time:
date: ON 18th June 2011 from 7 PM to 11 PM and On 19th June 2011 from 1 PM to 11 PM
address: GALERIE VIVIENNE4 Rue des Petits Champs 75002 Paris
corponsorship: GALERIE VIVIENNE www.galerie-vivienne.com, JAPONAIDE www.japonaide.org
---
Charity concert for earthquake victims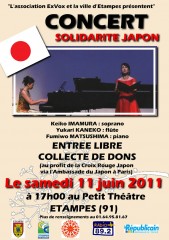 ON 11th JUNE ON SATURDAY AT 5 PM
place: Mini Theater in Etampes city
address: place Geoffroy-Saint-Hilaire 91150 Etampes
entrance fee: free, donation optionally
Program:
Soprano Solo

Francis Poulenc: Les Chemins de l'Amor
Erik Satie: Je te veux (I Want You)
Antonín Dvořák: Rusalka 'Song to the moon'

Flute performance

Claude-Paul Taffanel: Fantasie on themes from der freischutz
Christoph Willibald Gluck: Dance of the Blessed Spirit-Orpheus and Eurydice

Piano performance
Program TBC
Musicians:
Keiko Imamura (soprano)
Yukari Kaneko (flute)
Fumiwo Matsushima (piano)
Partnership:
EXVOX, Etampes city
---