11.3.11 One year after
"What can be done in the aftermath of Japan's earthquake?" in order to answer to this question, we set out to organize a charity concert on April 10th, 2011 at the UNESCO's Room I. 114 musicians, all living in Paris or its surroundings helped raise a total sum of 21354.93 euros, all of which was sent to the National Federation of UNESCO Associations in JAPAN. One year after the earthquake, our wish is to organize a second charity concert in memory of the victims, with the help of an orchestra –composed almost exclusively of voluntary professional musicians – and the Super Kids Orchestra, all performing under the direction of renowned conductor Yutaka Sado. The goal of this one-year anniversary concert will be to raise new funds for the earthquake's victims, and send a message of gratitude from Japan to the rest of the world, as well as the solidarity between the musicians from all around the world.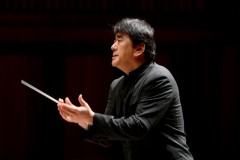 Date : On March 11th 2012 on Sunday Photo exhibition at 14:00, Concert starts at 15:00
Place : Maison de l'UNESCO salle I
Address : 125, avenue de Suffren, 75007 Paris (Métro : Ségur)
Ticket fee: 30 euros , 20 euros (student)
*The total amount of the ticket sales will be sent to "UNESCO Association Scholarship for 3.11 Disaster Stricken Children and Students" programe and Ishinomaki Meiyukan, an evacuation shelter run by volunteer stuffs in Miyagi.
Tickets are now on sale at Fnac.
Please purchase the ticket in advance. No ticket sales on the day of concert.
*Concert reserved for person of over 7 years old.
Program
1st part
The Super Kids Orchestra

J.S. Bach – Air sur la Corde de Sol
Frédéric Chopin : Piano Concerto No. 1 Op. 11 2nd movement Romance – Larghetto
Soliste : TSUJII Nobuyuki
etc.

2nd part

Ludwig van Beethoven – Egmont Overture, Op. 84
Pyotr Ilyich Tchaikovsky – Violin Concerto in D major, Op. 35
Soliste:Ryosuke Suho
Maurice Ravel – Boléro
FURUSATO(Pays Natal)
Yutaka Sado


Born in Kyoto, Japan and having studied with Leonard Bernstein and Seiji Ozawa. Sado captured world attention by receiving the first prize at the International Conducting Competition in Besançon in 1989. Sado assisted late Bernstein, Michael Tilson Thomas and the London Symphony Orchestra in 1990 to inaugurate Pacific Music Festival in Sapporo, Japan where he has served as resident conductor and later as guest conductor. Having served as Principal Conductor of the Orchestre des Concerts Lamoureux, Paris from 1993 to 2010, Sado has been guest conducting major orchestras throughout Europe including Berlin Philharmonic, Bayerisches Staatsorchester, Gewabdhausorchester Leipzig, Orchestre de Paris, Orchestre National de France and Orchestre de la Suisse Romande . In 2005 Sado has been appointed as Artistic Director for Hyogo Performing Arts Center and its resident orchestra in Nishinomiya.
Kanako Abe

After having obtained the diploma in composition in Tokyo and then 7 prizes at Paris Conservatoire, Kanako Abe begins her career as a pianist.Her recording of piano works
by Toru Takemitsu(2002) was particularly welcomed by critics.
From 2003 she is regularly invited to conduct the contemporary works performed by the Ensemble L'Itinéraire,Smash Ensemble,(Spain), Festival Biennale de Venise(Italia).
In 2005 she founded with the composer Yann Robin the french Ensemble Multilatérale, a chamber orchestra for contemporary music where she is currently music director.
She has already made more than 80 world premieres. Her discography includes three CDs monographic Régis Campo and a disc/DVD monographic Colin Roche.While attending to her aesthetic interest to different style of symphonic music, she conducts the Orchestre National de Montpellier, Orchestre National de Lorraine, AmorPhilharmonic Orchestra(Korea) at Cairo Opera(Egypt), Soul Art Center(Korea), Arsenal de Metz, Rhin National Opera(Strasbourg), Zürich Opera House(Swiss).
She was an assistant conductor at the Montpellier National Opera and has worked with many conductors and stage directors as Jerzy Semkow, Lawrence Foster, René
Koering, Jean-Paul Scarpitta, Moshe Leiser.
in April 2011, she organized and conducted at UNESCO a charity concert for the victims of Earthquake and Tsunami in Tôhoku, sponsored by Japanese Embassy.
Nobuyuki Tsujii

Blind since birth, Nobuyuki TSUJII believes that "there are no barriers in the field of music." At the age of 10, he made noted debut with Century Orchestra, Osaka. In 2005, at the age of 16, he was presented the Critic's Award at the 15th International Frédéric Chopin Piano Competition in Warsaw, Poland. In 2009, he won the Gold Medal at the 13th Van Cliburn International Piano Competition in Fort Worth, Texas, US. Since winning the competition, he has appeared such as with the BBC Philharmonic, the Aspen Music Festival, etc. Highlights of the 2011/12 season include his London debut with the Philharmonia Orchestra and Vladimir Ashkenazy, and a solo recital in Carnegie Hall's Stern Auditorium. Now 23,he has appeared as soloist with all the major Japanese orchestras and worked with conductors including Eliahu Inbal and Yutaka Sado. Nobuyuki Tsujii has made a number of recordings for avex-CLASSICS, Tokyo.
Official Site http://www.nobupiano1988.com/
Ryosuke Suho


Ryosuke Suho, born in 1995, began learning the violin at age 7. In 2008, while in his first high school year, he won 3rd place at Japan's national music student competition. He then joined the Kyoto Symphonic Orchestra under the direction of Naoto OTOMO.
2009: won the 1st Prize and the Virtuoso Award at the Kulturstiftung Hohenlohe's International Competition for Violin, as well as the EMCY, a European award for young classical instrumentalists.
2010: won the 1st Prize and the General Sponsor Award at the Moscow International David Oistrakh Violin Competition.
Selected by the association Young Prague – The International Music Festival, he joined the Prague Chamber Orchestra Without Conductor.
2011: 1st Prize and Audience Award at the Tokyo Music Competition.
He is currently a 1st-year scholarship student at the Tokyo College of Music.
The Super Kids Orchestra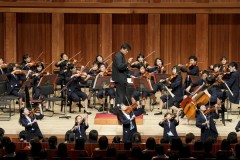 In 2003, the cultural centre of the town of Hyogo had the idea of setting up a string orchestra with children of primary and secondary school age. The centre's artistic director Mr Yutaka Sado is also the orchestra's conductor.
Every year, young musicians from all over Japan audition. Those who are selected practice regularly, take part in summer schools and perform at concerts, always under the direction of Mr Sado.
For the conductor, it is not just technique that is important, but also sharing the joy of performing music with the children.
In August 2011, Mr Sado organised a concert on Negishi beach in Kamaishi, a town that was completely destroyed by the Tsunami of 11 March 2011.
Mr Sado's goal is for the Super Kids Orchestra to gain international renown. This concert in France will be the orchestra's first outside Japan.
JAPONAIDE Orchestra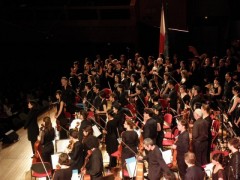 JAPONAIDE Orchestra is composed by volunteer musicians reside in Paris and Il-de-France region. The "Comité des Concerts de Charité pour les Sinistres du seisme au Japon à Paris" (CSJP) was founded two days after the earthquake hit Tohoku on 11th of March 2011, by the students of the Paris Conservatoire (CNSMD). CSJP soon posted comments on Facebook for a classic concert, more than 100 musicians from not only France but also other countries of Europe contacted CSJP back to participate the concert. The orchestra was named "JAPONAIDE Orchestra" after the charity association based in Paris, which was created also two days after the tragedy to support the victims. On the occasion of the charity concert at UNESCO on the 10th April 2011, JAPONAIDE Orchestra played Dvorak's symphony No.9 of his New World, Ravel's piano concerto with the new star pianist Mami Hagiwara under Kanako Abe's direction who was also the representative of CSJP.
This year on the 11th of March, JAPONAIDE Orchestra is renewed its members and mainly composed by volunteer musicians from l'Orchestre National de France, l'Orchestre Philharmonique de Radio France, l'Orchestre de Paris, l'Orchestre de l'Opéra National de Paris, l'Orchestre Lamoureux, l'Ensemble orchestral de Paris and students of the Conservatoire National Supérieur de Paris.
JAPONAIDE Chorus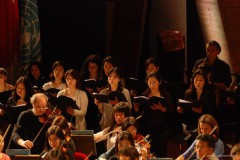 JAPONAIDE Chorus was founded by volunteer vocalists including those who of the Radio France chorus. They performed at the charity concert at UNESCO on April 10, 2011 for the disaster victims of the earthquake in Japan. In the concert, "Sakura – cherry blossom" and "Furusato – home country" lead by JAPONAIDE Chorus were sung along with the audiences. The thought to the stricken area filled and echoed the music hall.
Co-organizer : Comité du 3.11 Memorial Concert at UNESCO, Association internationale du personnel de l'UNESCO (AIPU/ISAU), Maison de la culture du Japon à Paris, JAPONAIDE
Sponsor : Délégation permanente du Japon auprès de l'UNESCO, Ambassade du Japon en France
Partner : JAPAN AIRLINES, Hyogo Performing Arts Center, Fondation Franco-Japonaise Sasakawa, avex-CLASSICS, Tokyo College of Music, Conservatoire Paris, Tokyo University of Foreign Studies, Canon France, La Maison franco-japonaise, Shimizu Octo Inc., Labo Love Japon, Paris Komatchi
Photo exhibition – Tohoku : Tohoku Photo Exhibition Executive Committee, Tokyo University of Foreign Studies, The Kahoku Shimpo, Canon France, Shimizu Octo Inc.,
---