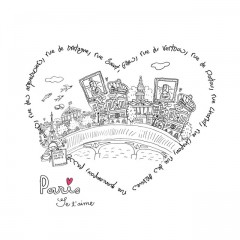 Date: From 14 February to 28 February
Opening: 14 February at 8H00 pm
Place: Le Bougnat
Address: 28 rue saintonge Paris 75003
PARIS JE T'AIME?
An art series exhibition titled " PARIS JE T'AIME " start from February 14 in north Marais.
About the art series exhibition
Can we create the places of encounter get across to hearts in big cities? Is the art able not only to touch our heart but also to bring closer us? Are the artists factors of the urban life? Is Paris like a town of lovers drawn on a movie?
« PARIS JE T'AIME » is an artistic exposition in several stages that will be held in north marais from 14 February until 28 February. The exhibition is more than a limit of conventional galleries and familiar to the resident of Paris is performed.
Participating artists present the idea for love and it appeal to the heart of those who visited. The artists bring to share their vision of the love, a romantic place for lovers, an opportunity for meeting people. The love, the passion, the curiosity will be able to combine the wonderful meetings with the art.
« Quel est donc ce lien entre nous cette chose indéfinissable ? Où vont ces destins qui se nouent pour nous rendre inséparables? » Feist (the film « Paris je t'aime »)
– What is this sense not to be able to express through the words? Where do these destinies bound together continue ? –
Particulars Information
A heart mark appears in the street of North Marais area to the exhibition hall at the time of an event holding start. Shops and galleries, the participation from the Paris community spaces during a holding period will be big welcome.
PARIS + JAPON = PARIS JE T'AIME 2
« Paris je t'aime » becomes as the 2nd year of holding gives a thought to the earthquake disaster on March 11, 2011. This theme of « Paris je t'aime 2 » executive committee which has introduced the various photographs, images, graphics and illustrations, is Japan. Three Japanese artists open a Parisian's hearts.
More info : www.facebook.com/pages/Paris-je-taime-parcours-artistique-en-forme-de-coeur/120978844637251