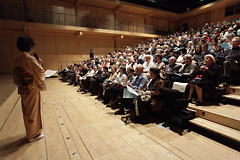 The last chamber music concert series held in Cultural Center of Japan in Paris on May 4th was finished with splendid night. however it was a weekday, there were many guests came to hear a performance.
The performance of musicians who played an active part in the world including pianist Jun Kanno changed the color of the music hall with one first tone.A lot of works of composers of France were played, and in 'Pavane for a Dead Princess' represented with the thought of prayers. In Messiaen who followed, it was discovered fresh surprise in the power of the sound that pulled the music hall.
The ticket profit of this day became 3,180 euros and the total amount of donation achieved 3364.80 euros with 184.80 euros from raising box.
8288.40 euros,the total amount of the ticket profit and the donation of 'The evening of the chamber music', 'The evening of the concerto' and 'Chamber music concert', will be transferred to the Japanese Red Cross via the Home of Japanese Culture in Paris.We thank for all the musicians, the spectators and the promoters of the event for their supports for Japan.
Jun Kanno (piano)
Shigenori Kudo (flute)
Piotr Anderszewski (piano)
Yvan Chiffoleau (chello)
Atsuko Watanabe (violin)
Jérôme Laran (Saxophone)