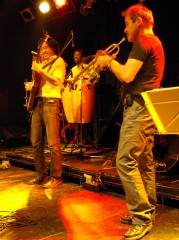 May 7th on Saturday, a charity concert of Tomohiro Maeda Paris Connexion was held in MJC Jean Vilar of Igny 15km away from Paris.
Before the curtain rised, the photograph which a member of Tomohiro Maeda Paris Connexion took at the time of tour of 2009 in Japan was projected by screen.
For daily sights and cherry blossoms, the image of mount Fuji, we also sent thought to Japan.
Since the performance began from a mellow number changed an atmosphere into a lively tune, the bodies and the hearts waved naturally in the rhythm and the music hall became one.
By the encore, the jazz version of the red dragonfly was shown while hearing a voice of much 'Bravo'. For a sound came into a heart made people felt power of the music.
The photographs projected by screen was sold for consideration of MJC Jean Vilar at a music hall entrance and the proceeds of total amount was contributed for Japan.
The total amount of the donation achieved 872 euros include of the sales of the photographs, admissions, the contribution to a donation box and the proceeds from the Bar. In addition to the future sales of the photographs will be added.
We thank the musicians, the staff of MJC Jean Vilar for their big generosity and their efforts to bring the most possiblity to the victims and all spectators.
MJC Jean Vilar
http://www.ville-igny.fr/-Maison-pour-tous-MJC-Jean-Vilar-.html