Discover and have a taste of our fine Japanese products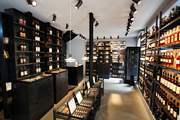 In March the La Maison du Whisky will be participating in the general effort to bring relief to the victims of the earthquake and tsunami that hit the north-eastern coast of japan last year. In order to collect funds for those in Japan who have been living in precarious conditions up to this day, the « Maison du Whisky » will be presenting and organising events on the theme of Japanese products all throughout the month.
5% of the benefits made on Japanese products during the month will be sent directly to Japan and help funding the reconstruction of the country.
"Japanese Saturdays"
Those who wish to come will be able to discover (or rediscover) the large variety of japanese products we have to offer, with a series of free tasting sessions organised every saturday throughout the month of March. Each session will be centered around a different type of product, thus presenting you with the al the originality and singularity the country has to offer. Come meet us at the – LMDW Fine Spirits – store (Odeon station) every Saturday of the month of March from 12:00 am to 7:30 pm
DATE : Saturday March 3rd, 10th, 17th, 24th and 31st
OPENING HOURSE : from 12:00am to 7:30pm
PLACE : LMDW Fine Spirits
ADDRESS : 6 carrefour de l'Odéon 75006 Paris
March 3rd : Awamori & Shochu
– Kuroki Honten (Miyazaki-ken)
– Yonaguni (Sakimoto Shuzo, Okinawa)
March 10th : Nihonshu Sake
– Kamoshibito Kuheiji (Banjo Jozo, Aichi-ken)
– Dassai (Asahi Shuzo, Yamaguchi-ken)
– Denshu (Nishida Shuzo, Aomori-ken)
– Kawasemi (Koshi no Hana Shuzo, Niigata-ken)
March 17th : Nikka Whiskies
– Nikka Whisky
March 24th : Liqueurs de fruits
– Ume no Yado (Nara-ken)
– Asahara Shuzo (Saitama-ken)
– Choya (Wakayama-ken)
March 31st : Rhums
– Ogasawara (Ogasawara)
– Cor Cor (Grace Rum, Okinawa)