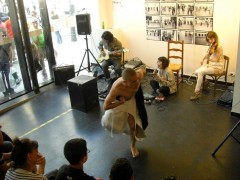 Saturday July 30 2011 – Paris, A charity event for the victim of the earthquake tragedy of 11th March 2011 was held in the gallery at 59 rue du Rivoli.
This was initiated by French buto-danser Nelson Ferreira and Japanese performer Azusa Kurokawa. YANÉKA, Japanese music unit currently based in Sweden, and violinist Clara Roy-Maeda, Contrabassist Fred Marty and costume designer Victor Férès participated in this event.
At the 1st part entitled KOMACHI, people were overwhelmed by the dynamic and still serene atomosphare which Nelson created during his performance.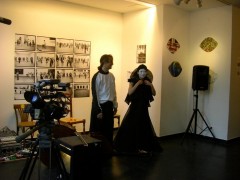 After a litlle break, now it was Azusa in Resuscitation of Memory who drew all the attention with her unusual magnificent black dress which covered her from the top to the toe. Her every meticulous movement kept people's eye on her till the end.
The total amount of the donnation rised to 199.52euros, which will go to Think the Earth.
Thank you very much for your generous supprt.