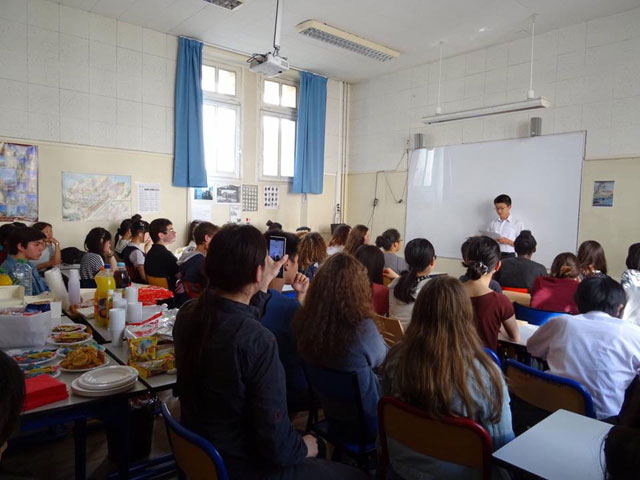 ---
About the Great East Japan Earthquake

About the Great East Japan Earthquake (2011 Tohoku Earthquake)
At the time of the Great East Japan Earthquake, my home was damaged, and almost all of the shelves and furniture fell down, leaving almost nowhere to stand (photograph 1).
Radioactive material was dispersed on the environment because a nuclear power plant exploded (photograph 2). Even after three months had passed, there was a radiation dose of more than 1.7 micro sieverts at my home (photograph 3). Because walking outside was not possible, I had my grandfather keep my puppy, Cookie, which means I had to be separated from him (photograph 4). I lived for one year without opening the windows, and then evacuated to Yamagata because my younger brother was suffering from asthma. I moved back to Fukushima-shi because the radiation dose decreased one year later. Children can now play outside with no problems because the area has become decontaminated. In addition, I can now eat the local rice and vegetables grown in Fukushima because they are inspected properly. However, in areas that are still contaminated, more than 10,000 people are still in shelters as the area is still in an unlivable state (photograph 5).
About visiting nations and the support for reconstruction from each country
At the time of Great East Japan Earthquake, Japan and Fukushima received a lot of support from many nations. As a citizen of Fukushima, I feel there is a special meaning in the support provided by France. Because France has a flourishing nuclear power infrastructure, the nation provided nuclear disaster support resources. In addition to technical guidance, I received radiation exposure protection gear from Areva, protective clothing that defends workers and neutralizes nuclear fission with boric acid. On top of that, we received warm support and generous donations from the people of France. It is because of you that reconstruction is progressing. I would like to sincerely thank all of France for what they have done for us.
About the present condition of Japan's Tohoku region and its local charm
First, reconstruction in the Tohoku region steadily continues, but there still remain many displaced people, and it will take several decades to dismantle the nuclear power plant. However, even in this situation, the people of the Tohoku region are working hard towards reconstruction. The charm of Fukushima, my birthplace, is in its pristine nature and natural hot springs. It is the fruit kingdom, a place thriving in the cultivation of fruits like peaches and apples. There are also traditional festivals, such as the Straw-sandal Festival (photograph 6). While there is still damaging misinformation, I truly love my hometown, Fukushima.
What I want to tell everyone
I would first like to express my gratitude for the donations and support that people from overseas provided after the earthquake. Also, I think it is important not to underestimate the possibility that a disaster could unexpectedly occur in your own area, so we should strive to be prepared. Finally, there are many people overseas who think that Fukushima is uninhabitable, but it is my hope that everyone understands that there are hard-working people striving towards reconstruction, and children are living happily.
---
---
I was ten years old when the earthquake struck Eastern Japan. It was a huge earthquake and everybody was frightened. There wasn't much damage to my house, but the water supply was cut off and we had a hard time. Moreover, I lived in Iwaki City, which was near the nuclear power plant, so we fled outside the prefecture. The schools had been closed because of the nuclear power plant disaster. Many people left their home, so all the shops were closed. People who stayed had difficulty due to the lack of food and daily necessities. We feared the radiation and couldn't even go out or hang out the laundry to dry. One day, an e-mail came from my English friend who lived in Thailand. It said that they would invite me to live with them for a while. So, I went to Bangkok and lived there about a year.
Going to an international school in Bangkok and making many friends there was a wonderful experience, but I think it is best if families could stick together. From this experience, I learned the importance of families. I would also like to thank my friend's family for accepting me like a family member. When I grow up, I want to be a person who can help people in trouble.


Here is a photo of my host family in Bangkok.

I'm sure everyone knows that France and many other countries have supported us in many ways since the disaster, so I would like to tell you what I actually experienced.
In November 2011, Sylvie Guillem, a very famous French ballerina, came to Iwaki City and danced 'Bolero' for us, which is one of the most famous works of Maurice Béjart. If you learn ballet, you must have heard her name at least once, so we were very excited with this news. I and my ballet friends all went to see her performance and were so impressed by her dynamic dance. After the show, Ms Guillem stayed at her greenroom and signed her name for everybody and I talked with her a little. Many of my friends gave up dancing because of the earthquake and some of them fled to other prefectures and couldn't come back. It was a bit sad, but watching Ms Guillem's dance made me determine to keep dancing.
Since May 2011, the French Embassy in Japan has been holding the campaign that supports Tohoku Area by cultural events. As a part of this campaign, the top ballet dancers in Paris came to Japan to teach ballet to the children in Tohoku and I attended the lesson. Even though four years have passed since the earthquake, French people haven't forgotten us and supported us.
I want to thank people who have helped us by giving things, but I also thank people who have supported my heart and I'll never forget it. Now many children have joined our ballet school and we're having a great time dancing together.

Our star, Étoile, Sylvie Guillem


This is me!


This is from our ballet show, 'the Nutcracker'.


In Iwate and Miyagi Prefecture, the victims of the tsunami came back to their hometown and started rebuilding their houses. Some people are even starting a new business and the towns seem reconstructed. In Fukushima Prefecture, more and more people are visiting towns and the economy has recovered almost the same as before.
However, the area near the nuclear power plant has not recovered at all. Due to the pollution by the radiation leak, residents are not allowed to go back to their home. It is said that it will take 40 years to dispose the nuclear power plant, so elderly people get pessimistic about their chances of going back. I heard many young people have given up their hometown and decided to live in another town. One of my friends is from a town near the nuclear power plant, but her family has decided to stay in Iwaki. It will take a long time for the towns around the nuclear power plant to recover.
Fukushima Prefecture is famous for farm products such as rice and fruits, and its beautiful nature. But due to the pollution of radiation, farming and tourism were badly affected. We must keep telling people that products detected no radiation are safe and there is no need to fear. Fukushima's peaches and pears are very sweet and juicy, so I hope that one day you can try them with no worry.
I have heard that there are many nuclear power plants in France, too. The accidents of the nuclear power plant have occurred in the U.S., Russia, and Japan. So, it might occur in France, too. Do people near the nuclear power plant know what to do when it happens? From my experience in Fukushima, I strongly recommend you to prepare for the accident. Of course you need to keep food and water, but also you need to have a place to escape. In addition, some people in Fukushima couldn't flee because their car didn't have enough gasoline. So, filling up the tank all the time will be a good idea. You need to prepare for the worst.
Although the disaster damaged many things, we were able to notice the importance of ordinary life and family. Moreover, we realized we are not alone when people from all over the world supported us. Thanks to donations and supports from France and other countries, we were able to start to recover from the disaster. I would like to thank you instead of people of Fukushima and Tohoku area. Thank you very much.
---
On the school bus. The traffic lights were stopped and so was communication via mobile phones.
I had no way to contact my mother who was supposed to meet me at the bus stop. I can't remember what happened after that. I don't know how my mother and I finally met, how I got in the car or got home. The first traffic light was not working, my mother only remembers stopping. We went with my sister to my grandparents house. They are in their eighties. My father was at work, he went there some time in the night. I don't have clear memories of this time either. The next morning we went to our house, there were cracks in the foundation. The lifeline had stopped. The lifeline was cut off for two weeks.
After 3rd we knew wisfortune and grate damage.
There was talk of the French sending a team of nuclear energy specialists to Japan. Japan did not accept this offer. I think they should have accepted immediately In fact a friend of my grandfather rad a minster of defence in those days. lived through the Great Hanshin Earthquake of 1995. At that time Japan was not able to smoothly accept aid from different countries and Self Defense force due to the wording of the constitution.
The most important thing anywhere in the world is life. It is my assertion we don't need rules in these cases. I am grateful to France for the invention of boric acid.
I want to talk about the revival of the coast. I also want to talk about radioactivity. I live in the city of Morioka, the radiation levels here are normally lower than other parts of Japan. However, after the Fukushima Nuclear Power Plant disaster the levels were three times as high. This was due to the weather patterns to Morioka which is 250 kilometers to the north of Fukushima.
This is a farming area and it was necessary to remove the top 20 centimeters of farmland. After the earthquake images of Japanese waiting patiently in line were admired all over the world.
Morioka city in Iwate prefecture was rated highest in this regard. If you come to visit you will understand what a good place this is.
After the earthquake and tsunami all the history of an area disappears. I looked up suddenly to witness the testimony of an undamaged church. I am grateful for peace. The knowledge of science does not extend to understanding of natural disasters. I am in the position as a follower of traditional arts. Culture would like to interchange for long taking this thing as a start.
Thanks to this I have been able to be a go-between Japan and France.
Let me repay this kindness.
---
On march 11,2011, a great earthquake occurred off the Tohoku district in the Pacific Ocean. At the same time, a great tunami occurred and hit an extensive area on the coast. The earthquake and the tunami deprived a great many people of their lives and houses. We call this series of great disaster ''the Great Disaster of Earthquake in Eastern Japan''. According to the Japanese Government. it is reported that the dead and missing people amount to 18,475. It is also estimated that the damage caused by the disaster amounts to between 16 and 25 trillion yen. According to the World Bank, it is estimated that this amount of money as an economic loss by a natural disaster is the greatest in history.
I live in a small district called Shichigo in Sendai. Near my house is an area damaged by the tunami. The tunami hit the whole area. The Tunami took the lives of my relatives and friends. It was a sad thing. And since the disaster, I have worked to that area of broken houses and scattered debris. Soon after the disaster, I worked to find some stores available and get enough food for my family and the people in my neighborhood. When I feel my house quake just a little, I always remember on that day and can't sleep well with fear. But I have decided to overcome the hardship by the disaster with my family.
Soon after the disaster, 22 billion 700 million yen was brought as contributions to Japan from 179 countries in the world. For example, the French Government sent its rescue team to Japan and gave a lot of relief goods to the disaster area. We are very thankful to this kind of support from all over the world. These days, we can see a lot of new buildings and streets here and there. In addition, 470 thousand people in the public shelters has decreased to 270 thousand people. We can realize that we are recovering from the disaster. But we has not, completely recovered from the disaster yet. It will take a long time for all the people to go out of the public shelters and to live in their own houses.
I believe our neighborhood is recovering from the disaster little by little thanks to your support from all over the world. But all the problems the disaster brought about has not been brought to a full solution. It is important for us to take actions in order to recover from the disaster. For example, we always have a close relation in our neighborhood. We are ready to help whoever are in need of our help. This kind of close relation was very helpful when the disaster occurred 4 years ago. Because of the disaster, our relation has become closer and closer. I do hope to work for our neighborhood with a close relation.
We have experienced the greatest disaster that occurred in the last one thousand years. We have suffered a lot of pains and sorrows in our heart. We have also suffered serious damage in our city. We still have a hard time of despair. But we are supported by a lot of people all over the world,we are very thankful that we are recovering from the disaster tanks to their support. We have learned a lot of things from our experiences of the disaster; for example, good disaster measures, strong mind, and deep gratitude. I would like to tell these lessons to a lot of people in Japan, as well as all over the world.
---
About four years ago,a giant earthquake hit Miyagi.
It was about three minutes of long shaking.
I was aware of my mortality for the first time in my life.
We did not expect a big tsunami would come to the coastal areas.
I experienced a life of inconvenience for approximately one month.
I lined up in the supermarket for hours to buy food.
The things I wanted to use at home were not usable and everyday was an inconvenient life.
France sent more than one hundreds rescue party and blankets, drinking water, food, pharmaceutical products after an earthquake disaster.
Thank you for much support.

Please see these two photographs.
People were able to move to temporary housing from refuge six months after the earthquake disaster.
This is a revival house, three years after the earthquake disaster.
At the present, when four years passed, I had a rebuildig.
In addition,the trains are gradually improving the traffic service too.

The rebuilding advances in the urban areas, and before earthquake disaster and a state not to change are seen.
I live there cannot be the inconvenient thing.
However, progress of rebuilding is slow in the coastal areas.
The difference of rebuilding between urban areas and coastal places is outstanding.

In my local town Sendai-shi, Miyagi, the Tanabata Festival is held every year in August.
About two million tourists come.
During the Tanabata Festival, 1 million folded-paper cranes are displayed.
We enjoy it while walking the street.

We must make the original town the way it was before the earthquake disaster and make more splendid towns from now on.
To that end, we must make an environment that the people who left their hometown and work and life, can return to.
In addition, I sometimes forget the Great East Japan Earthquake after four years.
I think that you must hand down the memories of that day so that people all over may never forget it to many people widely.
---
The GreatEastJapan Earthquake occurred on March 11th, 2011,
which triggered massive tidal wave.
A number of people lost their lives,and most of them were killed by the tsunami.Four years have passed since we experienced the earthquake.However, a lot of local residents are still stragling to love their lives under difficult circumstances caused by the earthquake and tsunami.
As one of the suffevers, I strongly feel the importance and Preciousness of my dairy life and things I use in my dairy life.
Many people helped us at the time of the incident.
The earthquakeand and the tsunami derives people of their houses and schools instantly.
I think a lot of tohoku residents were uneasy in their future. What made us hopeful under those situations was many encouragement message, emergency relief goods, and relief money from many other countries all over the world those assistances helped people in tohoku enormously.
Post-earthquake recovery is not just reconstruction buildings and roads each of us should retain the memory and step ahead to wards each dream, which I think is a real recovery.
There is a hotspring resort "SpaResortHawaiians" in Fukushima prefecture where I live. The facility sufferd serious damage at the time of the earthquake, and it had no choice but to close for a long time.
Dancers canned "Hula girls" of the resort have visited 125 place including forein countries to show their dance and played an important role as a symbol of post-earthquake recovery.
They cheerd people up and gave people a lot of hopes and happiness all over Japan.
Though they are sufferers of the earthquake themselves, they tries their best to encourage people in Tohoku. People in Fukushima are very proud of Hura girls.
People in Tohoku have lost many things at the time of the GreatEastJapan Earthquake. They, however, could create social connection with people in Japan and other countries. I am very grateful for people who helped us and gave us hope I am happy I can take this opportunity to express my appreciation to them.
During the two weeks homestay experience, I would like to try to communicate with many people and change myself to more Positive person.
I hope to introduce Japanese culture to people in France as well as understanding French culture.
---
The disaster
On March 11th,2011,the biggest earthquake in the history of japan hit Tohoku. The scale of the quake and the follwing ten meter tsunami took away many people's lives. More than 15,891 people passed away and there
are still about 2,578 people missing.
Many cities have changed completely. About 300,000 houses and building were broken. At the time of the disaster,I was no electricity,no gas,and no water.
Help from Friends
The disaster of March 11th, devastated the coast and our oyster farms sufferedgreatly.
Luckily,some organizations in France sent some relief equipment to aid Japan and the oyster farms.
The project was called "Franceo-kaeshi".
The means "France's Payback.
France wanted to help Japan in return for begin helped in the past.
History will go on,but many people lost their families.
Many people cannot go back to their former homes.
Old communities cannot return to living the way they were.
Current Tohoku
After suffering from the severe damage from the disaster, we have made various efforts for the recovery of our beloved Tohoku.BUT even so,I feel that deep inside of our hearts, we are still suffering.
In my hometown,Sendai,where about one million people live, people have been trying to revitalize not only Tohoku as a whole but also the people in sorrow.Sendai is a lovely city.
People enjoy the beautiful harmony of nature and the surroundings.It is famous for the historical warlord names Date Masamune. He built a castle there, and some places and streets are named after him.Sendai is a wonderful place to live,with many charming points.
My Message
Thank you for heatfelt support,This is What I want to say first. You'll never know how much we were helped and encouraged by you. I'd like ask;What is true recovery? Is it about rebuilding emtire cities as they used to be? Is it about people getting back to their previous lives without their family?
I want you to think about it together. I believe that true recovery will be the day when we can look forward to the feture with smiles in our hearts. But, I don't know whether that is accurate or not. We can't think about it forever,but it's important for us to go on standing beside each other. Let's work hard to crete a world where everyone can smil together.
Thank you.
---
Hello, everyone.
I live in Sendai. Iam a second grade student in Junior High School. I am honored to be here today.
The theme of my presentation is to show gratification for your heip and support for when we had the earthquake and tsunami.

march 11 2011, the big earthquake happend.
many people lost their valuable lives because of the tsunami. I was third grand in elementary school.
Then four years have already passed since the natural disaster hit my town, but still March 11th reminds me of the tragdy.
It was snow and cold day. I was frightened from the earthquake. I was desperate to live. I did not understand what to do then.
My house was damaged a lot, but fortunately my family was safe. I couldn't use water and electricity for a few days. I couldn't use gas for a month. I felt like I was living in a forest. We needed to make line to get food and water for a couple of days, and it was especially very hard to buy groceries.
The adults worked hard for their children.

Then many people started to do volunteer work for us not only from Japan but also from foreign coutries too.
I was especial impressed that they were looking for missing people. A lot of cheerful messages gave us power.
There were many people from all over the world who came to Japan to help, even though it was under tough circumstances.
Now life has returned to normal since the disasters happened. But some people cannot return homes on the coast town. The tsunami washed away the railway, but the railway has been almost full repaired and it will be reopened soon.

I will introduce a little bit on Sendai.
Ilive in Sendai, north of Japan. There are about 1,000,000 people in my city. We have many festivals in my city with the seasons.
In Sendai, we have a big festival called "Tanabata" in July. There are a lot of decorated bamboos along the streets. When I was an elementary school, I made paper cranes to promode hope, happiness, peace and recovery from the earthquake with my friends.
We know you have delicious food in your country, but we also have delicious food in my city too.
For example, it is "Zunda-mochi". It is made from Edamame. It is sweet and delicious sweets.
I love this town.

Through this experience I have found that I have to cherish the present. I think I will do anything that I think I can do. Now, I should study and think about the recovery of Japan.
The biggest reason why we could get recover from the damage is because of all your sepport.

Thank you so much.
---
Great east Japan earthquake hit our town at 2:46 p.m. on March 11, 2011 registered an intensity of 7, magnitude 9.0, and 15,891 people were killed by terrible tsumnami after the earthquake.
When it hit, I was at school, and soon my mother came to school to pic me up.
There was 6 oil heaters at refuse, but it was snowy outside, and we felt so cold.
At the night, the car which was soaked in sea water emited loud sounds of their horn. It sounds over the night.
A few days later, many people from all over the world came to us in Tohoku area, and helped a lot for us.
We got not only supplys, but also many messages from the world. Many volunteers came to help us, and our town get cleaner day by day.
Now we are trying to recover our lives, but it seems stand still 4 years have passed since the earthquake, and our town have got cleaner, and rubbles are cleared, but their still are many broken houses and bumpy roads.
It seems to take more time to recover our town like before,
aif so, Iwill join and cooperate with the people who are trying to recover our town.
The things I want to express the most is my thanks.
Thank you for coming to help us, though there were so much distance from your countries.
Thanks to your help, we could find hope.
Thank to your messages, we could step a head.
I think, the next is our turn to return a favor.
---