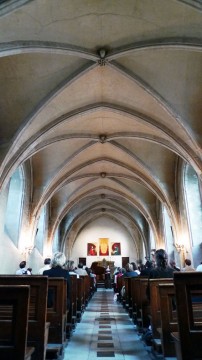 On 28th May, the concert titled "the letter to Japan" by humanitarian support group SEME was performed in a chapel of French noble high school HenriIV places on Pantheon. With the performance by a soprano singer, a fluter and a pianist, the concert was composed of reading recitation of poem by the member of Ecritures aujourd'hui (Ms.Jacqueline Aupetit sponsorship).
The opening begins with the soprano singer's clear emotion in song of Victor Hugo and the harmony of a flute and the piano, a label and Debussy, the works of the modern composer were played successively.
Reading recitation of poem as the letter addressed to Japan continues between performances. The last of the concert was played with the collected lieder of Toru Takemitsu. When the Japanese song which was with full of feelings of Lucille Marchel-Seumois played, it let beautiful Japanese sound through the concert hall.
It became the wonderful concert with being supported by the warm applause of all of you. The amount of donation achived 483.90 euros. These donations will be transferred to Japan through Japanese KNK.
Musiciens:
Lucille Marchel-Seumois (soprano),
Sophie Peltier (flute),
Keiko Tsujii (piano)
Reader « Ecritures aujourd'hui » Ms. Jacqueline Aupetit
We thank to all the performers, the member of "Ecritures aujourd'hui" and of course for all people who joined us to dedicate our thoughts to the victims of Japan.