On Wednesday, October 5, a charity event was organized by Tsunagari Taiko Center in  Studio Campus, a live house near Bastille.With the theme "How to give people courage to construct better future through arts", this was not a mere concert but a good oppotunity to know better about the instruments and danse with the explanation and commentaries given between the musical performance.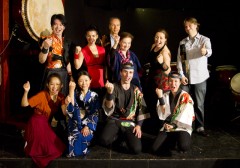 We had Mr. Keita KANAZASHI of Wa-daiko the japanese drum unit called HAYATO as a special guest from Japan and who let the powerful sound of the drum go through the audiences. In addition, 'Gen Gen Bara Bara' and 'Harukoma' of Gujo-Odori and Awa-Odori, one of the traditional regional japanese dance style were presented. 'Kojo no Tsuki' (The Moon over the Ruined Castle') with a Japanese French Shakuhachi(Japanese end-blown flute) unit conveyed the traditional sound of Japanese musical instrument.All the performers gathered on the stage at the finale included of African percussionist and the audiences joined the music too. This experience taught us that there was no border in music.
279.55€, the total amount of the donation of this event.submit 80€ for the live house cost, 199.55€ will be transferred to Art Revival Connection Tohoku via JAPONAIDE.We thank to Tsunagari Taiko Center, all spectators and all audiences who joined us to dedicate our thoughts to the victims of Japan.