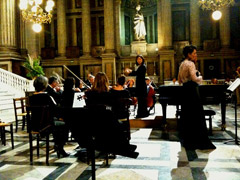 19th June, the International concerts to the profit of the reconstruction after the Earthquakes in Japan was held in Madeleine temple in Paris.
The concert committee of organization for 'Prayer of 200 years, F. Liszt' is the support group in succession to Liszt's intention for the earthquake disaster. On the occasion of the disaster by the flood that attacked the Danube basin in 1838, Liszt held a charity concert himself. also it was the Liszt's 200th years birth day.
Since the earthquake, The concerts has been given in Paris, Warsaw, Vienna, Kyoto and Tokyo on the initiative of this committee. A big concert is planned in Sendai where is the stricken area on 11th March 2012. In addition, each concerts are planned in prestigious and symbolic places as the Madeleine Temple in Paris, infront of the statue of Chopin in Warsaw, in the mecca of classic music hall in VIenna, in the Imperial Palace and the Kiyomizu Temple in Kyoto.
The concert at the madeleine temple of this day began by a passionate performance of the Hungarian Rhapsody No,12. The elegant sound of 'the dream of the love' and from the song from an opera 'quota' by V.Bellini, 2 duets of a soprano and the mezzo-soprano sounded in the Madeleine temple. The second part, there was the beautiful sound which was different depth with Part 1 played. The last part of the concert was finished with "A funeral march" of Chopin by Katsaris.
2855.79 euros, the total amount of the donation of this concert will be transferred to the Japanese Red Cross via the Home of Japanese Culture in Paris.
We thank to all the performers, the musicians of the members of the concert ommittee of organization for 'Prayer of 200 years, F. Liszt' and all people who joined us to dedicate our thoughts to the victims of Japan.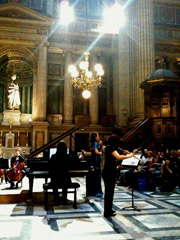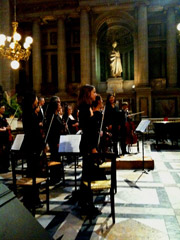 Musicians :
Cyprien KATSARIS (Piano)
Sachi Segawa (violin)
Ryoko Yano (violin)
Ritsuko Nazé-Ohashi (alto)
Hanna Sato (flute)
Akiko Kawakubo (piano)
Mieko Kamiya (soprano)
Agnieszka Lucya (mezzo-soprano)
Chinatsu Saito (soprano)
Madoka Fukami (piano)
Yuki Kondo (piano)
Shinichi Inoguchi (piano)
Lionel Wantelez (violincello)
Jean-Michel Kim (piano)
Yuki Kondo (piano)
Seiko Kawasaki (arrangement)
Pasdeloup Orchestre
direction and piano: Kanako ABE