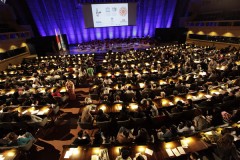 On 10th April in Paris,
when one month is going to pass from an earthquake in Japan.
An orchestra concert opened on a spring day like an early summer in UNESCO headquarters conference room that is close to the Eiffel Tower.
We have already had all 1,350 seats of reservations by 2 days before the concert.
It began with the picture of the stricken area then offered a one-minute silent prayer for the souls for the victims and followed "requiem for string music" of Toru Takemitsu.
The spectators could not stop applauding since the end of the first movement of the concerto for piano of Ravel which was marvelously interpreted by Mami HAGIWARA, the first Japanese winner of the International Contest of Music of Geneva in 2010.
The last of the program was the symphony No.9 of Dvorak from 'A new world'.
This symphony which was spelled by a composer of Eastern Europe sent a letter to the hometown in the foreign ground, United States. In the second movement 'Largo' had thoughts of Dvorak snuggled up to a melody. Even if the countries were different, we shared our thoughts as well as Dvorak and couldn't help being seized with homesickness.
In the end, the 1400 voices of the hall united to sing 'sakura sakura' (cherry blossoms) and 'furusato' (hometown) by the choir composed of women and men.
The scenes of childhood, the landscape memories, the thoughts for family and friends. Tears welled up in everyone's eyes while singing 'furusato'. The harmony which was made up for the thoughts of all of prayers resounded in the hall. The picture of the concert beginning where a hometown is swallowed up by a tsunami was recalled.
The total amount of the donation rose to 21354.93 euros. They are handed to UNESCO to contribute to the construction and reconstruction of school establishments, as well as to the education and takes care of the damaged children.
We thank the musicians and the singers for their performances, the team of l' UNESCO and the volunteers for their organizations and supports, and all those were present to join their thoughts to victims.
Kanako Abe (direction)
Mami Hagiwara (piano)
JAPONAIDE Orchestra